Agencies with Permanent Housing, Permanent Supportive Housing and Rapid Re-housing projects must indicate a move in date for every client they serve (find instructions on the process here).
In order to ensure that a client's housing move-in date is indeed documented, we have created a report to show records that do and do not have a housing move-in date recorded. The report is looking at data input after September 29th, 2017.
In order to access this report, you must first have an ART license. Log into ART by clicking "Connect to ART" in the upper right hand side of the page.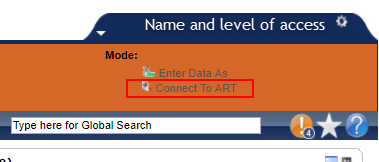 If you do not see this link, then you will need to request an ART license (First discuss this with your agency's ATA. If you do not know who that person is, email helpdesk@allchicago.org or submit a ticket request).
Once you have successfully connected to ART, then you will navigate folders to get to the report named " Project Entry to Move-In Date 2018-12-26".
The path is "Public Folder" ► "Chicago CoC Reports (Secure)" ► "Housing" ►" Project Entry to Move-In Date 2018-12-26"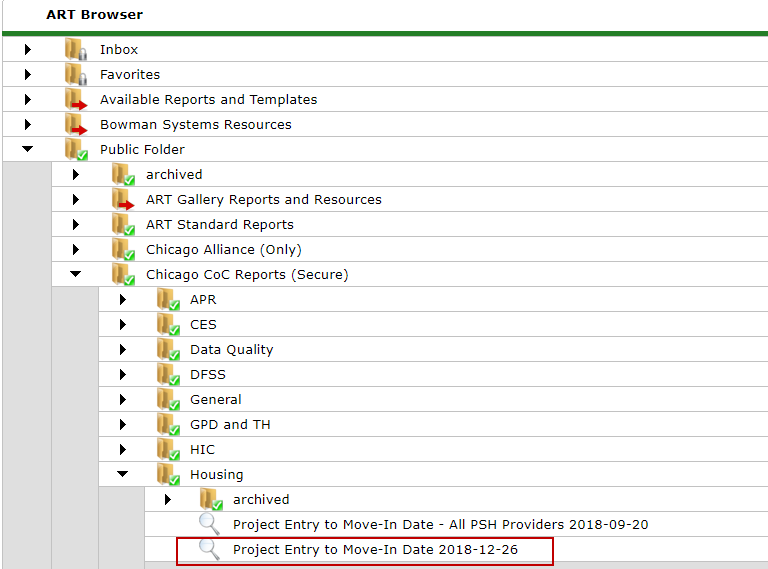 You will click the magnifying glass and then click "View Report".
Please be patient, it may take some time for the report to fully load.
Once it loads, select the Project from the list called 'Provider'.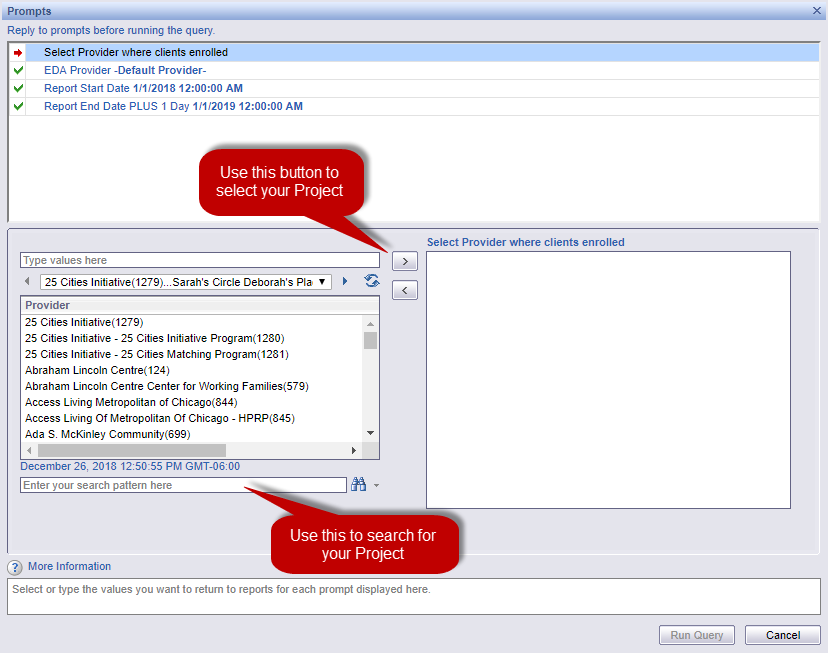 After selecting the appropriate project name select the specified time frame and click "Run Query".
You should now be able to view your results. Keep in mind that there are several tabs, which you can move between at the bottom.
The most relevant tab for your purposes is "Not Housed"
The data elements (columns) shown on the "No Move-in Completed" tab are:
ClientID - The Client's HMIS ID
Entry Exit Provider ID - The name of your project(s)
Project Type - The kind of project this is (find an explanation of what this means here)
Project Entry Date - The day the client was entered into the project

PLEASE NOTE: A client's entry into your project is when the client is admitted to your program, not necessarily when they move in (more details here)

Housing Move-in Date - This is measuring when a client moved into their unit

A Housing Move-in Date CANNOT be before a client's entry date

Enrolled w/o Housing - This is measuring number of days from Project Entry Date until Housing Move-in Date (or to current date if no Housing Move-In Date).
Exit Date - When a client exited the project