Table of Contents:
General Overview
This is the final assessment that needs to be completed before users are able to receive their live HMIS credentials. In this session, users will be provided sample client documents, in which they will choose ONE scenario that matches the project-specific course taken and the project they will be entering clients in. Using the information about the sample client, they will be expected to complete a full client record in the training site.
The objective of this activity is to provide users with an opportunity to practice:
assessing the knowledge that was gained through the courses;
interpreting a sample client's information; and
accurately entering it into the HMIS as they complete a full enrollment into their project.

Users will need to register for the proctor at the end of the project-specific course, through a Google Form. You will receive a copy of your responses in your email as a confirmation that your registration was received.

Instructions for the proctor are emailed out weekly on Thursday morning for users that have registered in the past week. Although it is highly recommended that the proctors are completed as soon as possible, there is no time limits for its submission/completion.
Evaluation Criteria:
Creating a New Record
Creating and navigating a client profile
Entering them into an appropriate household
Documenting Release of Information
Determination of record locking
Enrollment
Accurately creating an enrollment into a project
Completing 3 full assessments: Entry, Interim, and Exit
Answer all questions not in italics, generating answers that makes sense with the scenario when data isn't provided by the sample client document.
Assessments
Completing necessary demographic information
Interpret sample client's housing history
Completing and updating HUD-verified sub-assessments accurately
Information consistency throughout the assessments
Project-Specific Requirements
PSH/RRH: Entering Housing Move-In Date
Outreach/Path: Documenting contacts and engagements
Services Only: Completing service transactions
Example of a sample client and data entry below:
Correction Period
When users complete their sample client record, they will need to submit a ticket to the Help Desk with the following to be reviewed for accuracy:
Subject: Virtual Proctored Session Review
Sample client name
Sample client ID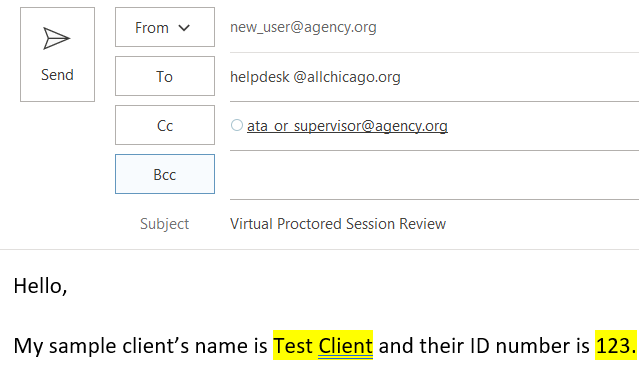 Records with minimal to no errors will then receive their live site credentials, along with the End User Agreement to be completed and submitted to their ATA/Supervisor.
Users having significant errors or difficulties will be provided:
Detailed feedback for corrections
Scheduled 1:1 video walk-through of their client record
Request to re-do partial or full training course