Below you will find information on making a payment for individuals as well as paying for multiple users.  Payments can be made through Credit Card through PayPal. You won't need a paypal account to use a credit card.
You may have purchased "credits" that will allow you to use a code to redeem an HMIS training.
Individual Payment
The first method that can be used to pay for the course would be through credit card of PayPal. 
Log in to hmis-allchicago.talentlms.com (instructions on how to create an account here), you will find the appropriate course that you need to take for your workflow and click on "Get this Course". Below, you can see what it will look like in the live site.
After clicking "Get this course", you will move forward to the course description page, giving you a breakdown of the modules that will be listed in the course itself. Once again, you will need to click on "Get this course" after reviewing the material to ensure it is the correct course for your workflow. 
Clicking "Get this course" will take you to a pop up screen asking you to check out. This screen allows you to input a coupon, should you have one. For individual payments, however, you will only need to click on "Checkout".
Clicking checkout will move you forward to this screen, asking you to sign into PayPal email. You can forgo this step by clicking "Pay with Debit or Credit Card".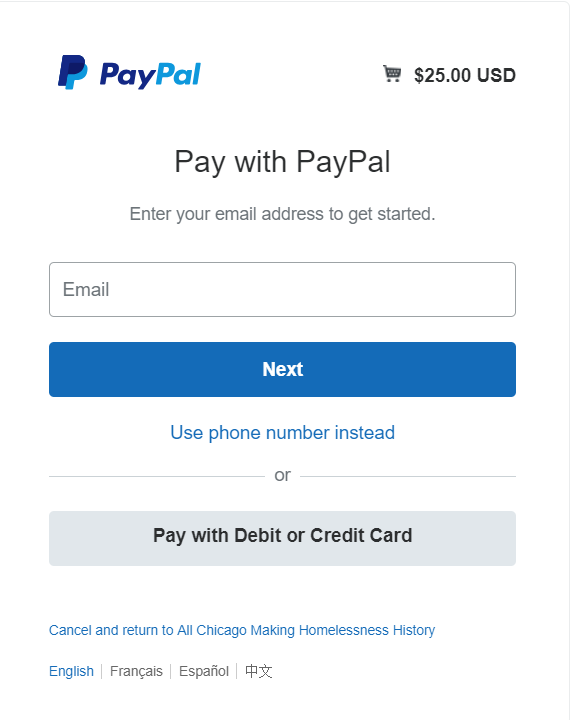 Paying for Multiple Users
Agencies that need to train multiple staff members can also purchase training credits in bulk. 
There will be a minimum of 5 credits to purchase (which will be redeemed using the coupon system).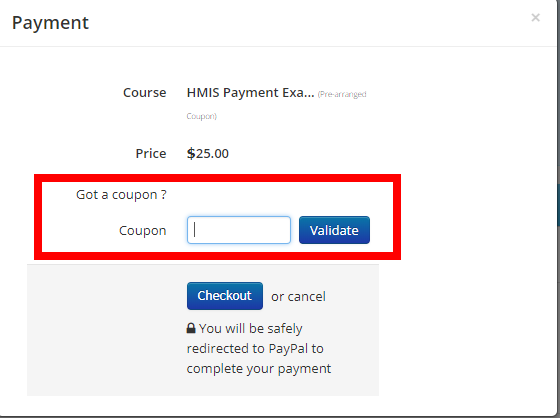 To place an order for multiple training credits, please complete this form. 
The timeline for processing your bulk payment will be as follows: 
We will create and send your invoice through PayPal (2-3 business days)
Once the invoice is paid, we will send the contact person indicated on the invoice form a coupon code, which will reduce any given price of a course to $0 (2-3 days)
For any issues, please contact the Help Desk by email hmis@allchicago.org or clicking here to submit a new request.