This article will cover the DFSS Funded SO Progress report located in BusinessObjects. The categories covered in this article can be found below.
Report Location / Parameters
The DFSS Funded SO Progress report can be located in BusinessObjects by following the folder path below in Red. Please use these links for details on locating BusinessObjects within ServicePoint or generating / scheduling reports in BusinessObjects.
Public Folders/chicago_live_folder/Chicago CoC Reports (Secure)/DFSS/DFSS Outreach Progress Report/DFSS Funded SO Progress Report (Provider Variant)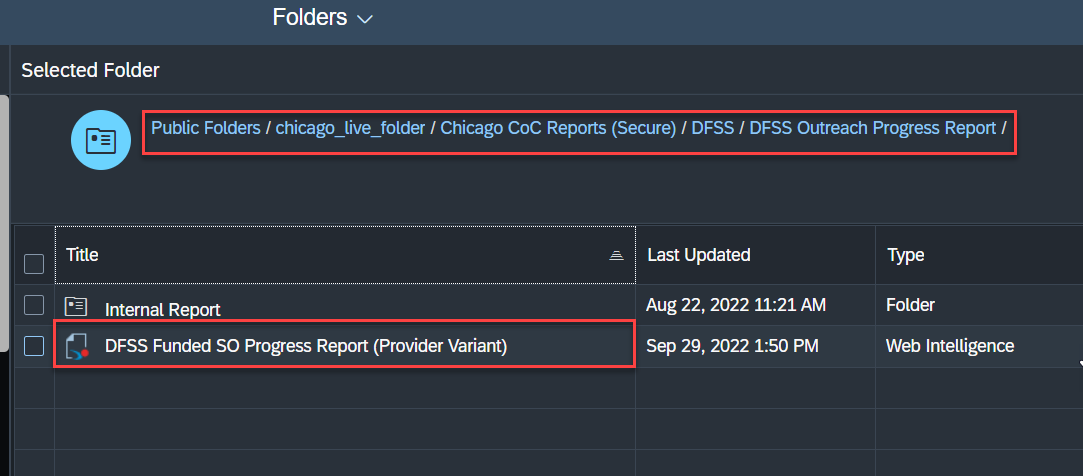 After clicking on the DFSS Funded SO report, you will be presented with a prompt window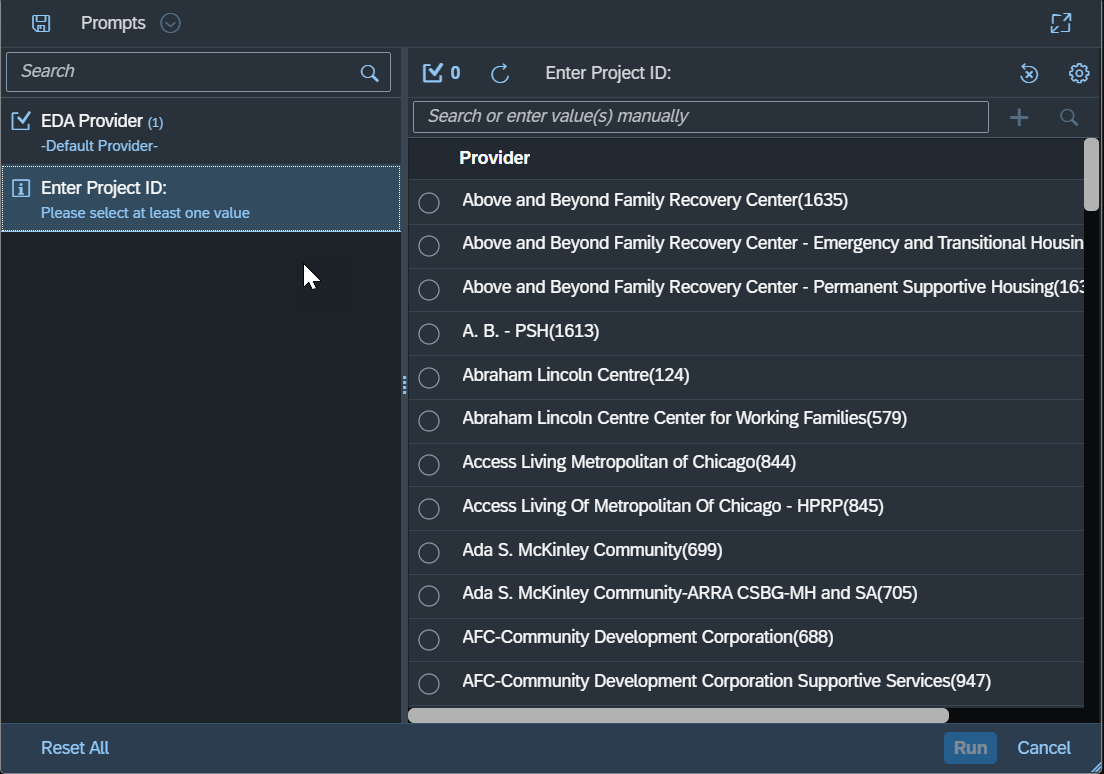 From here you will select your project and click Run.
If the report generates with No Data, Please submit a ticket to helpdesk@allchicago.org
Report Details
Below are data points located in the report. To the right of the data point will be a description of the location from where the data is being pulled. Data points such as CH Status and Disability have a calculation component to them, the details of the logic can be found to the right of the data point.
Prior Living Situation
Looks at the Prior Living Situation question located in the HUD Entry assessment.
Exit Destination
Looks at the Destination question located in the first prompt of the Exit.
Ch Status
For a client to appear as CH, they must have a disabling condition. The question, "Does the client have a disabling condition?" = Yes. In addition, the client must fulfill one of the two requirements listed below.

1)
Prior Living Situation = "Emergency shelter, incl. hotel/motel paid for w/ ES voucher, or RHY-funded Host Home shelter (HUD)";"Place not meant for habitation (HUD)";"Safe Haven (HUD)";"Interim Housing"
AND
Total number of months homeless on the street, in ES or SH in the past three years = "12";"More than 12 months (HUD)"

OR

2)
Prior Living Situation = "Foster care home or foster care group home (HUD)";"Hospital or other residential non-psychiatric medical facility (HUD)";"Jail, prison or juvenile detention facility (HUD)";"Long-term care facility or nursing home (HUD)";"Psychiatric hospital or other psychiatric facility (HUD)";"Substance abuse treatment facility or detox center (HUD)"
AND
Length of Stay in Previous Place = "One night or less";"Two to six nights";"One week or more, but less than one month";"One month or more, but less than 90 days"
AND
On the night before did you stay on the streets, ES or SH? = Yes
AND
Total number of months homeless on the street, in ES or SH in the past three years = "12";"More than 12 months (HUD)"
AND
DaysBetween - Approximate date homelessness started: and Entry Date >=365
Age
Calculated based on the Date of Birth question located in the HUD Entry assessment and current date.
Ethnicity
Looks at the Ethnicity question located in the HUD Entry assessment.
Primary Race & Secondary Race
Looks at the Primary and Secondary Race question located in the HUD Entry assessment.
Ex-offender?
Looks at the Ex-offender question located in the DFSS assessment.
Primary Language Spoken
Looks at the Primary Language Spoken question located in the DFSS assessment.
Veteran Status
Looks at the U.S. Military Veteran question located in the Client Profile tab.
Disability
Looks at the "Does the client have a disabling condition?" question located in the HUD Entry/Exit assessment and the "Disability determination" question located in the Disabilities sub-assessment below the following question. Both questions would need to be answered YES for it to populate YES on the report.
Physical Disability
If the "Does the client have a disabling condition?" and the "Disability determination" question is "Yes"
AND
Disability Type = "Physical (HUD)";"Physical Disability"
Mental Health Disability
If the "Does the client have a disabling condition?" and the "Disability determination" question is "Yes"
AND
Disability Type = "Mental Health Disorder (HUD)";"Mental Health Disability"
Substance Use Disability
If the "Does the client have a disabling condition?" and the "Disability determination" question is "Yes"
AND
Disability Type = "Alcohol Use Disorder (HUD)";"Both Alcohol and Drug Use Disorder (HUD)";"Drug Use Disorder (HUD)");"Substance Use Disability"
Total Monthly Income
Looks at the Total Monthly Income question located in the HUD Entry assessment.
Most Recent CES Enrollment
Will populate the date of the Most Recent 1474 (Chicago Coordinated Entry System (CES) - Skilled Assessors Project) enrollment
Resource Links
Updating Client Assessment Information: Interim Reviews
Adding an Individual Household Member to an Existing Entry/Exit
Sub-assessments and HUD Verifications