Sub-assessments are where the client's story plays out over time. In each sub-assessment, you will find the entire history of your client as it relates to the sub-assessment's particular subject (Disability, Income, Non-cash benefits, and Health Insurance).
Barring very few exceptions, every agency using HMIS will see sub-assessments in their entry, update, annual and exit assessments - they are the constants throughout your client's data entry life-cycle.
Sub-assessments at Entry:
Below is an example of what each sub-assessment looks like at entry. Thus far, this client has no records in any of their sub-assessment fields. From this point, we need to indicate what the client has, and does NOT have. Entries at this point are designed to get a snapshot of where the client is at the exact moment in time when they enter your project.
Keep in mind that every question preceding the sub-assessment has to match with the sub-assessment. So if you indicate that the client does not have a disabling condition and they in fact do, then you will receive a data error.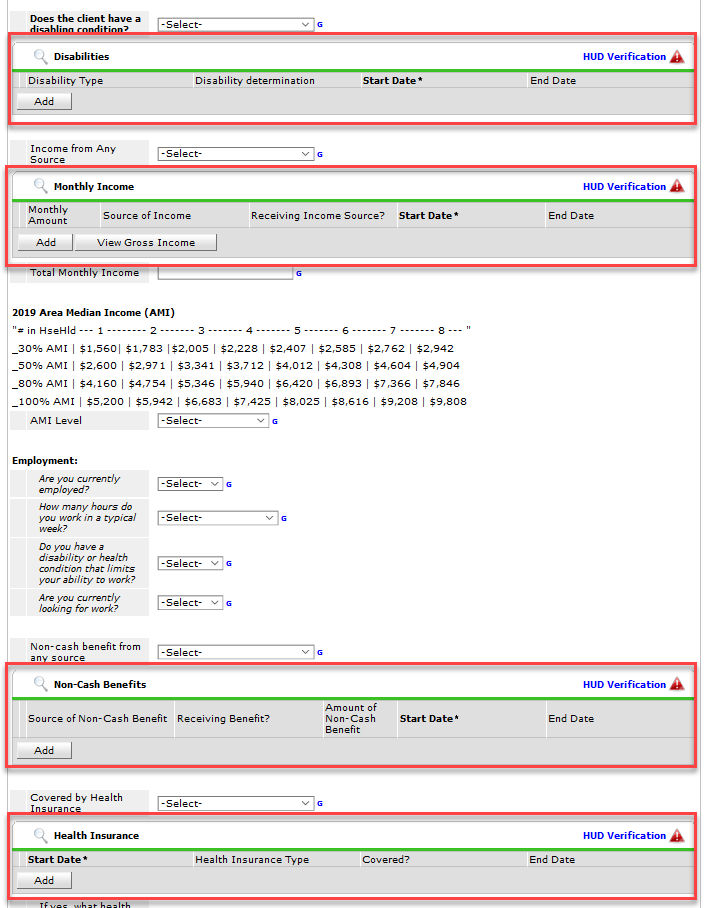 We need to start populating the sub-assessments with records indicating what the client has and does not have.
The easiest way to get started would be to click on "HUD Verification". When you do so, this screen below will appear. Every sub-assessment will have a screen that looks like this, barring differences on the record (row) names.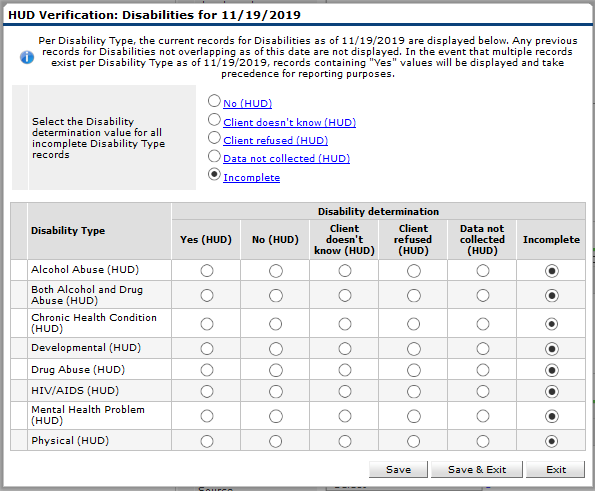 As you can see, all categories are considered incomplete. This matrix is required to be answered. Even if some of these disabilities may be irrelevant to your client, you still need to answer whether they have a certain condition or not.
For our example, I am going to indicate that my client suffers alcohol abuse. All I need to do is click the "Yes" button next to the "Alcohol Abuse" row and a small questionnaire will pop up.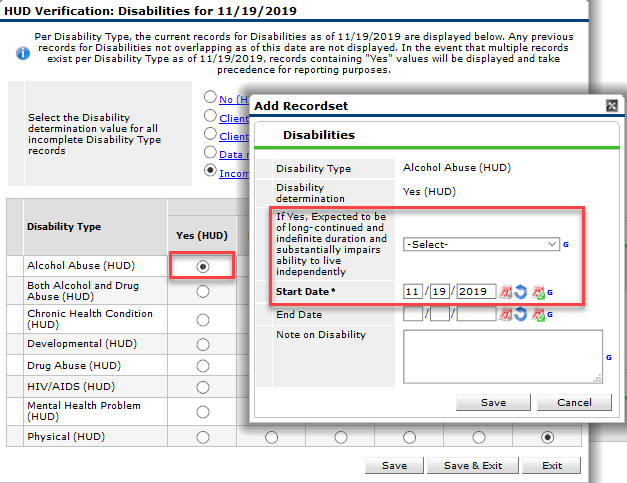 Answer the question as truthfully as possible. In instances where clients may not know the start date of their illness or when they began receiving income or when they started receiving healthcare, you can simply default it to when they entered your project.
When you are finished, click "Save". If your client has multiple disabilities/incomes/benefits/health insurance types, you can click every "Yes" next to each appropriate record to add it.
From there, you can click the hyperlinked "No" at the top of the page to change any other of your client's answers to "No".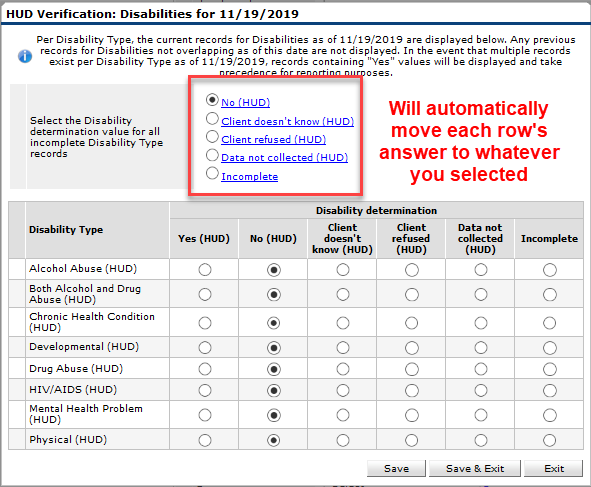 Monthly Income:
We will round out our examples with that of Monthly Income. You will be documenting your client's income much in the same way as with disabilities. However, the important thing to note is that incomes may begin and end. They may change over time, something that Permanent Housing projects will have to contend with.
Clicking the magnifying glass will show you a historical record of your client's history.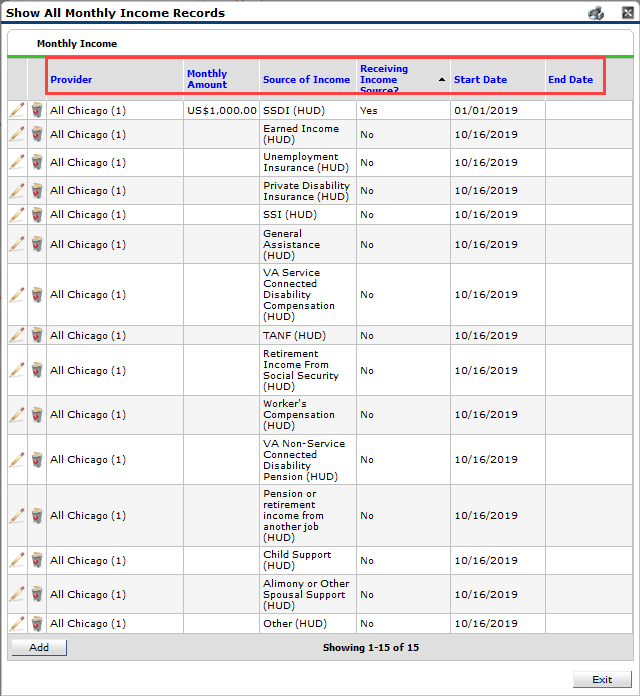 You can sort by monthly amount, source of income, start date, and end date.
Down the Line:
Over time, the sub-assessments will grow as you input more information through the Interim reviews you create.
PLEASE NOTE
Below is an example of what a long term sub-assessment record may look like. Notice that although there is an end date, the "Receiving Income Source?" column is still YES. Selecting no will cause a quality error.
Also, during an Interim Update, changes to income and non-cash benefits are denoted as a separate entry. Do not change an existing or previous entry unless it's to add an end date. Each entry is a span in your client's life. If there is a change in income, an end date is added to the previous entry and a new entry is created. This new entry cannot have the same start date as the end date of the previous entry you just closed. If you end an SSI entry on 1/1/2020 for $200 and start a new entry on 1/1/20 for $500, the system sees the overlap and thinks the client had $700. There must be at least one day between the end date and start date of of the same type.