Timeline 
The period for reporting is from January 1st to March 31st, 2019, as such reports will not be submitted until after April 1st (barring carryover reports, which are due on the March 25th).
Context
Grantees of the Department of Family and Support Services (DFSS) are required to submit quarterly reports as part of their grant. This report has traditionally not been required to be sourced from any particular data system - providers were expected to manually source and fill in data for each report sent in.
While many providers have used HMIS data to inform their DFSS quarterly reports, there have always been gaps in the data elements between what HMIS collects (which aligns directly with HUD data standards), and what DFSS collects (which aligns with data elements required by the Illinois Department of Human Services).
However, for the first quarter of 2019, DFSS and All Chicago are looking to begin the process of sourcing data for the DFSS quarterly report from HMIS.
The main goal of changing the quarterly reporting process are as follows:
Reducing the administrative burden on agencies, and

Improving the quality of data in our system to help make data-informed decisions
Training Videos and Previous Webinars
Walk-through of Reports (Downloading and Interpreting)
Q & A Webinar with the Department of Family Support Services, Recorded on March 20th, 2019
Introductory Webinar, Recorded on March 7th, 2019
This webinar was recorded on March 7, 2019. A PDF of the slides can be found here.
:30 - Agenda & webinar house keeping
4:00 - Reporting process for domestic violence providers
5:15 - Context
7:20 - Why source from HMIS?
9:40 - Why have we never sourced data from HMIS
12:00 - Aligning data
14:15 - How will reporting occur after Q1?
16:30 - This quarter's reporting timeline
18:20 - First quarter report structure and color coding
23:15 - Who can access the report?
25:30 - Scheduling the report
29:30 - Which reports are there?
32:50 - Entries and Exits report
34:00 - Carry-over report
35:00 - Live demonstration of pulling reports
39:00 - Addressing data
40:00 - Filling in data and report breakdown
43:00 - Multiple reference tables
44:00 - Filling in pink cells (data not sourced from HMIS)
44:50 - Fixing Date of Birth
45:30 - Gender and family composition
47:00 - Getting familiar with the IDHS assessment
49:10 - Submitting the report
50:40 - Takeaways
52:05 - Individual data support sessions
54:30 - Questions
Accessing the Report
Only Agency Technical Administrators and HMIS users with ART access will be able to download the report.
The report is located by navigating through the following folders:
Public Folder -> Chicago CoC Reports (Secure) -> DFSS -> DFSS Quarterly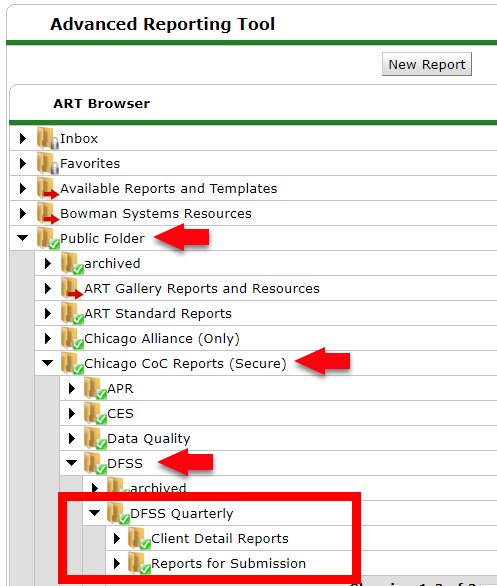 You fill find that the "DFSS Quarterly" folder has two children folders with the following files:
Client Detail Reports - These reports are mainly suited for reviewing your data and client details - these should be used in the lead up to submission to address issues

DFSS Performance Outcomes Details FOR REVIEW v20190313
DFSS Quarterly Report Details FOR REVIEW V20190313

Reports for Submission - These reports are for submission after April 1st (barring he carryover report)

DFSS Performance Outcomes FOR REVIEW DO NOT SUBMIT UNTIL APRIL v20190313
DFSS Quarterly Report FOR REVIEW DO NOT SUBMIT UNTIL APRIL v20190313
To run a report, click on the magnifying glass and then "View Report".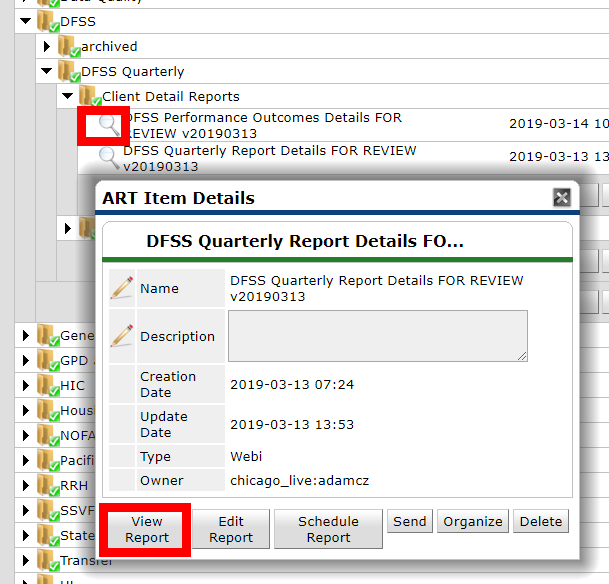 This will open up a new tab in your browser displaying the following image: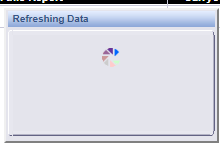 Please be aware that the reports in the Client Detail Reports folder may take significant time to process. Please allow about 5 minutes for the report to run.
After the report loads, this prompt screen  will appear.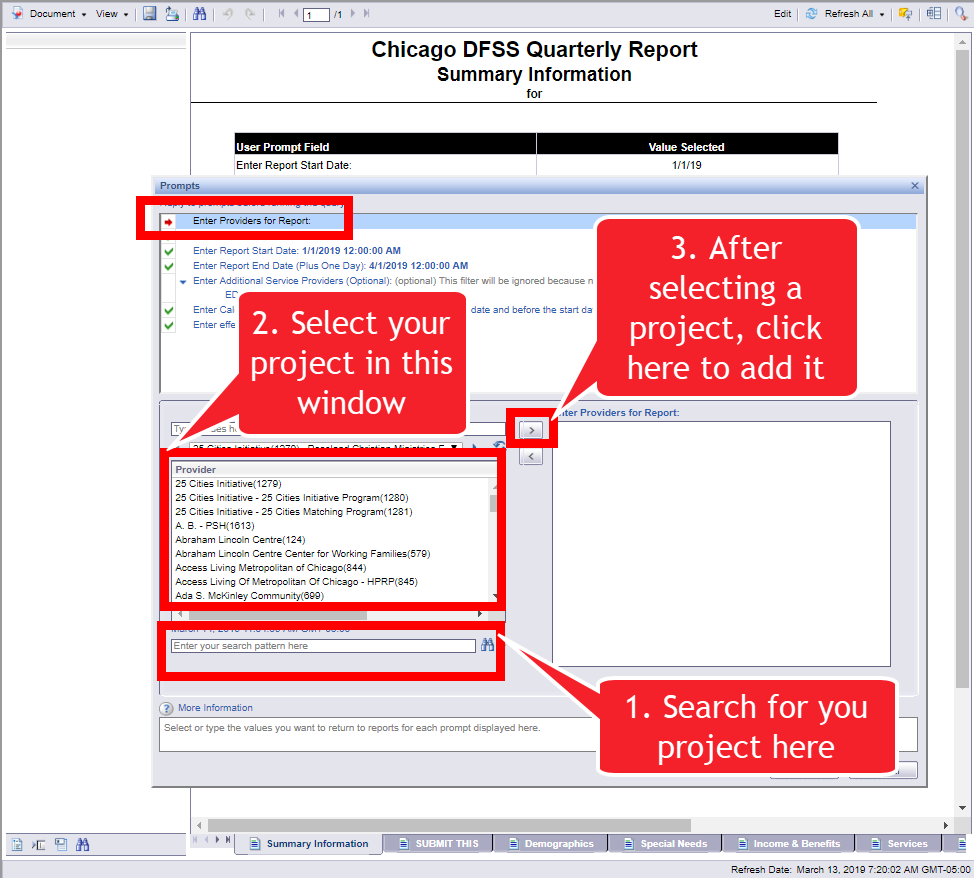 The screen prompt asks for which project to run the report on.
Below is what a completed prompt looks like.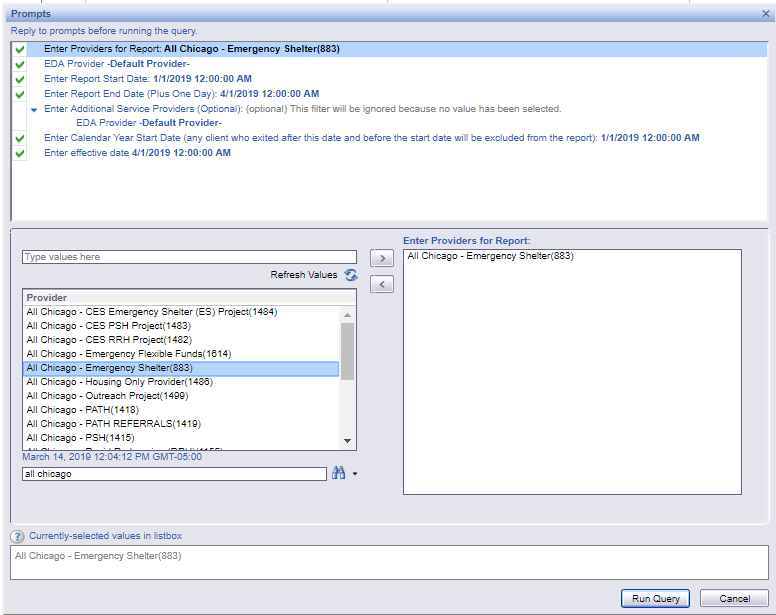 Once you have your report set, click "Run Query". Again, the report may take several minutes to process. If the report times out, consider scheduling the report.
Once the report is complete, download the report for use in Excel. On the upper left side of the screen, click on the drop down for "Document", however over "Save to my computer as" and download as Excel.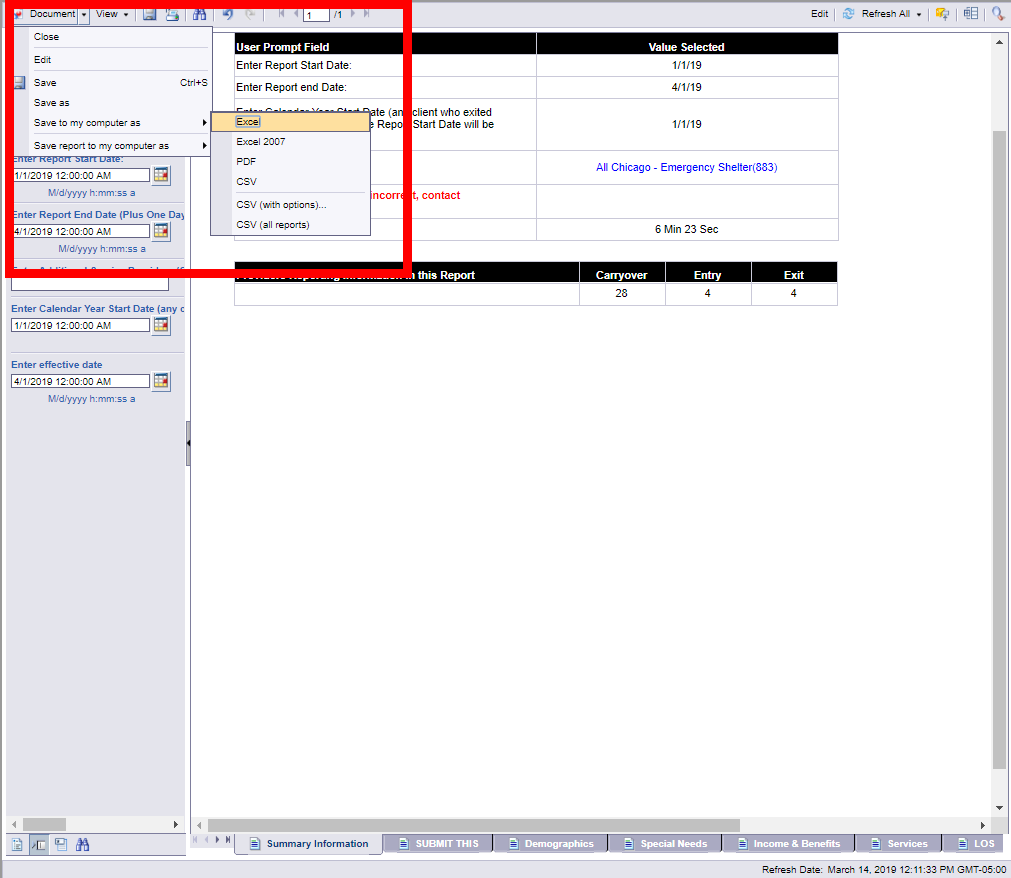 Running the Report on Split Projects
If your grant has several, separate projects in HMIS, then you must send in a set a reports for each HMIS project (particularly if they are at different sites).
Client Detail Reports (Not to be submitted)
Client Detail Reports are designed to assist you in locating any issues or missing data you may have.
The tabs on these reports are as follows: 
Summary Information

This is the general cover sheet required for submission

SUBMIT THIS

This is a preview of what the final report will look like

Demographics

This lists out all of your clients in three tables:

Those that entered during the quarter
Those that came to the project before the quarter began (those that carried over)
Those that exited this quarter

Special Needs

Lists the details for any clients that have any of the following conditions:

Are disabled
Are an unaccompanied youth under the age of 18
Are fleeing domestic violence
Are a pregnant/parenting teen
Are an ex-offender
Or are chronically homeless

Income & Benefits

This lists out what income, non-cash benefits, insurance and food stamps the client has as they enter and exit your project
Income, non-cash benefits, and the insurance records are pulled from their respective subassessments in the Entry Assessment

Food Stamps are sourced from the DFSS and IDHS Supplemental Assessment

Services

This pulls any service transactions you have recorded for any of your clients

LOS

This is the length of stay in your project during the reporting period
Note that the max on this is 90 days, since it is calculated by the quarter