One point person from your agency should have received the Sage upload link to their email. If you have not received one, or you are the best point person for this link, please let us know or email Cyndi Rivera.
How to Download the Report
You will be uploading a ZIP folder to Sage. In this ZIP folder are several CSV files partitioned off by sections.
You will need to download your ESG CAPER report from HMIS. (The screenshot below represents the 2019 calendar year. Your date will likely represent the year you need to run it for.)

From there, the file will download as such:

Make sure NOT to touch any files in this folder.
Uploading to Sage
After you have received an upload link, you will submit your report there. There is no Sage account necessary. After opening the link, you will see: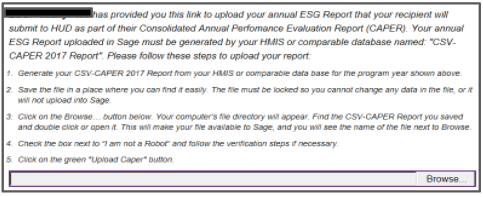 Click on Browse and select the ZIP folder you downloaded from HMIS.
Successful Uploads
A successful upload will show:

When you see this screen, just send an email to Cyndi Rivera to confirm upload.
Unsuccessful Uploads
There are two types of failed uploads.
Structural Error

A file in the ZIP folder is missing

Report Validation Error

Some type of information is missing in your project's information
If your upload is unsuccessful, you will see the following: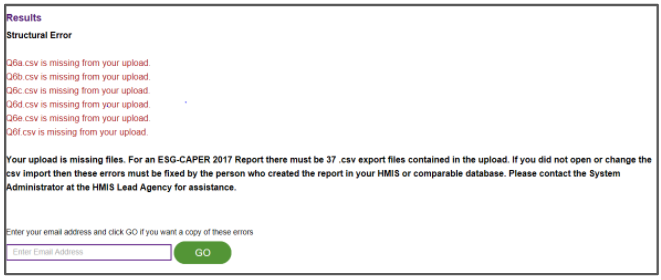 If you receive a structural error, then please try re-downloading your report and re-submit without touching the newly downloaded file.
If you receive a report validation error, then please refer to this article or submit a ticket.