This is one of three articles about the data quality process. This article describes the overall structure of the data quality process and outlines the compliance measurements that your project will be measured on.
For instructions on how to run and interpret the report, please go here.
Introduction and Context
The Chicago Continuum of Care (CoC) utilizes data-informed approaches to coordinate services and resources in its efforts to end homelessness. Homeless Management Information System (HMIS) data quality is an important factor to measure efforts to end or prevent homelessness. The CoC relies on the work of all providers of all funding types to enter accurate, complete, and timely data to ensure we have the information we need to make informed decisions as a community.
The HMIS Data Quality Assessment process addresses completeness, accuracy, and timeliness of the data entered by service providers into HMIS, as guided by the Chicago HMIS Data Quality Plan.
In order to maintain data quality, providers will have access to a report accessible through the HMIS system. The report will address data in the following areas:
Missing Values – Clients missing required assessment data undermines effective analysis of client data.
Child-Only Entries – These entries are largely children erroneously enrolled in projects without their appropriate guardian grouped with them. These data entry errors hinder providers' ability to count the number of families and individuals enrolled in a project.
Bed Utilization – If HMIS shows the number of clients/families enrolled in a housing project is vastly different from the number of beds/rooms the project has, this might indicate there is a discrepancy between which clients are enrolled in the project in real life and which are indicated as being enrolled by HMIS data.
Timeliness – Data should be entered into HMIS immediately after the event (i.e. individual's entry into a project). Timely data entry ensures the data are accessible when they are needed and for the use in Coordinated Entry (CE).
This article goes over the structure and overall process of Data Quality, click the following links for specifics on how to run and interpret the report and how to clean your data.
Webinar
This webinar was recorded on November 6th, 2023. The slides can be found below.
All Active Projects Must Participate
All projects, regardless of funding, are required to participate in the quarterly data quality process. So long as a project is active and has at least one client enrolled, it is expected that the data quality report for said project be submitted.
Please refer to this sheet for a list of currently active projects that are expected to participate in the data quality process. Please be aware that you must inform the HMIS Team if a project is no longer operational, active, or using ServicePoint; you may do so either by emailing HelpDesk@allchicago.org or by submitting a ticket.
Process Overview
The Data Quality process includes two different reports. The Chicago DQ report covers Missing Values, Child-only Entries, and Bed Utilization; the Timeliness report covers Timeliness.
Chicago DQ Report (Missing Values, Child-only Entries, and Bed Utilization)
The Chicago DQ Report is a self-service report accessible within BusinessObject (formerly ART) by Agency Technical Administrators.
This report will flag any elements that are missing or that were entered incorrectly, providing a place for users to begin the process of troubleshooting and correcting data. Please keep in mind that data within HMIS will be reflected in the BusinessObject report the following day (e.g., corrections made to a client's record on 11/01/2023 will not be visible in the report until 11/02/2023).
If your project has legitimate child-only entries, or your unit list has not yet been updated, please refer to these links:
For a full guide on interpreting the report and how to troubleshoot data errors, please refer to this article.
Timeliness Report
Timeliness is tracked through an automated report created by All Chicago. The report will be provided during each quarterly DQ process, and can be scheduled more frequently at the provider's request.
This timeliness report will track timeliness:
At entry
At exit
At housing move-in dates
For shelter services
Timeliness measures the time it takes to create an element in HMIS. This measure applies even if the entry date is backdated. For instance, if a client originally came into a project on 9/1/2023, but they were not entered into that project in HMIS until 9/15/2023, the information will be considered out of compliance as it took 14 days to indicate that the client was enrolled in the project. Timeliness data cannot be corrected.
Data Quality Process Timeline
The reports run for this Data Quality Assessment process will look at clients enrolled between 07/01/2023 and 09/22/2023. The end date of 9/22/2023 is due to system unavailability from 9/29/2023 - 10/3/2023.
Below are dates to observe:
Week of October 23

and

Week of October 30

Notice

The Data Quality process and DQ Webinar invite will be emailed to ATAs.

Monday, November 6


Start of DQ

The Data Quality process will begin. DQ report will be available to run in BusinessObjects.

Timeliness reports will be sent out to ATAs during the week.

A webinar reminder email will be sent to ATAs.

Monday, November 6

Webinar

A Data Quality webinar will be held from 11 am-12 pm to go over the DQ process for 2023.

Mon, Nov 6, 2023 11:00 AM - 12:00 PM CDT

https://attendee.gotowebinar.com/register/563691459008865628

Monday, November 6


-

Thursday, November 16

Correction Period

During this time projects will have the opportunity to correct or update their HMIS data.

Agencies will be able to request dates to meet with the HMIS Team to address any questions or issues they have with their reports. Before requesting a session, please note the following:

All sessions are limited to 30 minutes
An Agency Technical Administrator, or someone with BusinessObjects access, must be on the call as well

To request a 30 min session, please submit a ticket to Helpdesk@allchicago.org

Friday,

November 17

Submission

Submission of Chicago DQ reports due no later than 11:59 pm. There must be a report per project (though these reports can be in the same email).

Send your report submission email to DataQuality@allchicago.org.

(Remember: anything you add or delete within HMIS Friday won't show up in BusinessObjects until Saturday. If you need to add or delete anything that will be on the report, complete that by Thursday, November 16).

Final Results

All Chicago will post the results based on the project's final report submissions here.
Compliance Thresholds
In order to be fully compliant with the Data Quality Assessment process, all HMIS providers must submit and/or correct the HMIS generated reports by the deadlines listed and with the methods specified in this document.
Missing Values
No more than 5% of clients enrolled in the project can miss any data element. This is calculated by looking at the average of the "% Missing" column on the summary page of the Chicago DQ Report.
Child-only Entries
There must be zero child-only entries. A child only entry is flagged when a client under the age of 18 is enrolled in a project without being connected to a parent/guardian. This can happen for two reasons:
The child was entered separately from their parent/guardian
The client's date of birth is missing
In instances where a provider is working with an unaccompanied minor, please complete the child only exemption form.
Bed or Room/Unit Utilization
Bed or room/unit utilization must be within the following ranges:
Emergency Shelters: 80%-105%

Transitional Housing: 80% - 105%

Permanent Supportive Housing: 85% or greater

Safe Haven: 85% - 105%
The utilization looks at how many clients were enrolled in your project on August 17, 2023, as compared to how many beds/units are indicated in your Bed and Unit Inventory sheet.
If a project is over/under-utilizing their bed list, but is in compliance for their unit utilization, then the project will still be in compliance. The opposite situation would also count as being in compliance. So long as either bed or unit utilization is in compliance, the project as a whole will be considered compliant.
If the project type is Permanent Supportive Housing, the project will not be penalized if the utilization is over 105%
If you believe the bed/unit numbers are erroneous, please submit a Help Desk ticket indicating why. We will be measuring based on how many beds/units your project reported having on August 17, 2023.
If there was a reason why beds/units were not in use, such as construction or an emergency, please submit a utilization non-compliance form.
Timeliness
Timeliness rates for entries, housing move-in dates, exits, and shelter services must be above 90%.
The following time frames are required for any of these elements to be considered compliant for timeliness.
New project enrollments ("Entries")

When a client is initially enrolled in a project, the following information must be entered into HMIS within two days:

Name
Gender
Date of birth
Household composition
Project Entry Date
Project

Exits from project enrollments ("Exits")

For all bed-based project types (Emergency Shelter, Safe Haven, Transitional Housing, and various Permanent Housing projects), projects should exit clients from their project in HMIS no more than two (2) days after their last stay.
For all other project types (Services Only, Rapid Re-Housing, Street Outreach, Day Shelter, Homelessness Prevention, Other), projects should exit clients from their project in HMIS no more than seven (7) days after their last contact.

Service records for stays at shelters ("Shelter Stay Services") must be entered into HMIS within two days
Housing Move-in Dates should be documented within two business days of the client moving into their unit
Submission Process
The report is to be submitted before the deadline (Nov. 17th). For a full overview of the timeline, please review our process article.
Prepping Reports
After downloading the Excel version of the Chicago DQ report from BusinessObjects, the files must be renamed using the ChicagoDQ_----_yyyy-mm-dd template.
To rename the file on your computer, first, right-click on the ChicagoDQ_----_yyyy-mm-dd.xlsx file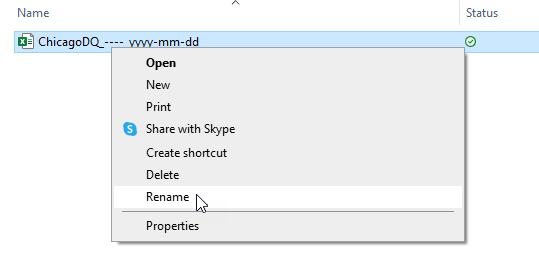 Next, click Rename from the drop-down menu

From here you will be able to adjust the project ID (----) and the date (yyyy-mm-dd) in the file name before submission.
EX:
Project: All Chicago – Emergency Shelter(883)
Submission file name: ChicagoDQ_0883_2023-08-04
The project ID number in the file name MUST be 4 digits. If a project has less than a 4-digit ID number a "0" should be placed before the ID number in the file name.
EX:
Project ID: 833
Submission file name: ChicagoDQ_0883_2023-11-17
Project ID: 12
Submission file name: ChicagoDQ_0012_2023-11-17
The date can be updated whenever you submit the report – it is simply for tracking purposes. However, inputting your project's HMIS ID in the place of the dashes is critical.
EX:
Date of submission: November 17th, 2023
Submission file name: ChicagoDQ_0883_2023-11-17
Sending the Reports
To submit the Chicago DQ report, please create an email to dataquality@allchicago.org.
Subject:

Data Quality Report Submission Attachments
You may attach all of your data quality reports together in one email, no need to send them separately.
Example below:
User Support
The HMIS Team will conduct a webinar for this round of Data Quality.
Data Quality Process Monday, November 6, 2023, 11 AM - 12:00 PM
https://attendee.gotowebinar.com/register/563691459008865628
Agencies will be able to request dates to meet with the HMIS Team to address any questions or issues they have with their reports. Before requesting a session, please note the following:
All sessions are limited to 30 minutes
These sessions will be done online - please ensure your computer has the capacity to record audio
An Agency Technical Administrator, or someone with ART access, must be on the call as well
Please open a ticket with the Help Desk highlighting any specific clients that need troubleshooting
Please have your report scheduled so that the HMIS team member can pull your information quickly, or email the report you plan on referencing beforehand

Doing so will save you time during the session
Quick DQ Troubleshooting Run Through