Below you will find information on making a payment for individuals as well as paying for multiple users. Payments can be made through credit/debit Card through PayPal. You won't need a Paypal account to use a credit/debit card.
Previously purchased "credits" may be redeemed through the Help Desk. Please submit a request to if you are not sure of the number of credits your agency may have. These are tracked by the Help Desk. While these codes have expired, you may create a ticket to use a credit.
Individual Payment
The first method that can be used to pay for the course would be through credit card of PayPal.
Log in to hmis-allchicago.talentlms.com (instructions on how to create an account here), you will find the appropriate course that you need to take for your workflow and click on "Get this Course". Below, you can see what it will look like in the live site.
After clicking "Get this course", you will see the course description page, a breakdown of the sections in the course. Review to ensure this is the right course, and then Click "Get this course."
Clicking "Get this course" will bring up a Check Out pop up screen.
For individual payments, click on "Checkout".
Clicking checkout will move you forward to this screen, asking you to sign into PayPal email. You do not need an email with PayPal for this step. Instead, forgo this step by clicking "Pay with Debit or Credit Card".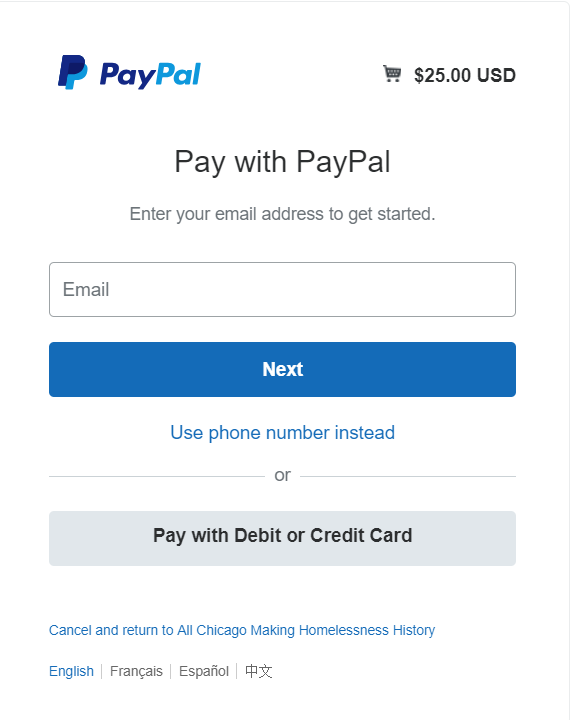 Paying for Multiple Users
Agencies that need to train multiple staff members may also purchase training credits in bulk.
To purchase multiple credits follow the steps below.
Fill out this Form.
When completed, a ticket will be generated through the Help Desk. An invoice will be generated and emailed through the ticketing system. Upon receiving the email, please mail in payment to All Chicago. When payment is received, the credits will be granted and a follow up email will be sent.
When a user needs training, simply create a ticket stating who needs the training and we will add the course to the user's profile. When they log into TalentLMS, they will see the course on their home page.
The timeline for processing your bulk payment will be as follows:
We will create and send your invoice through (up to 2-3 business days)
Once the invoice is paid, we will send the contact person indicated on the invoice form and the Agency's ATA an email stating how many credits the agency currently has along with how to redeem them.
For any issues, please contact the Help Desk by email helpdesk@allchicago.org or clicking here to submit a new request.